Heyyy there sports fans!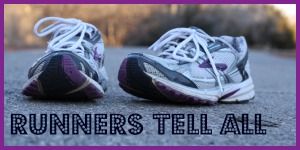 I'm super happy to be linking up this month with Beka from Sunshine to the Square Inch and Amanda from The Lady Okie for their Runners Tell All Link Up Series. I loved this series as soon they launched it earlier this year and when the chance arose to take part in and sponsor the link-up, I jumped at it!
This month's theme is Share a Running Picture!
So running pictures!
The picture that "got away" (as in I didn't purchase it because I didn't need a memory of the moment) is probably the one I should be using for this post. The first two half-marathons I ran, I was under the impression that the gatorade I was grabbing at the water stations was a good thing. It was not. It made me throw up. The second time as soon as I crossed the finish line - I narrowly missed a guys shoe. The first time it was in the range of the photo finish camera. There was a nice red stain down the front of my shirt. A total advert moment for gatorade.
Instead of that I bring you this:
This would be me running track in Highschool. Please note the green shorts and those pins that were two different colours. I loved both. I have to say, I thought track in Highschool sucked at the time, because it was a lot of pressure. But now looking back I wouldn't change those memories and moments for anything.
And this would be my least pukey picture. It's in last year's Ottawa Race Weekend Half-Marathon. I'm at KM 18 and I had just spotted Mike in the crowd. And it was the boost I needed to go on and kick the ass out of my PB - 1:34!!
Ok now your turn! Go deep into the recesses of your hard-drive and let the world see your running pictures. Or if you need to, grab your iPhone and dig through that shoe box under your bed. You have full permission to brag the heck out of them because you wanna know what? Running pictures motivate. It proves you made it through it, and it makes you wanna do it again.
When you get your post up, make sure you link-up below!
And for sharing in the embarrassing moments you'd rather perhaps stick in that shoe box under your bed, we're rewarding you! There's an awesome grab-bag of running goodies up for the snagging. It's a MYSTERY but  guess what? I know what's in it and you won't be disappointed ;) Make sure you get your name in the hat!!
Next month's theme is Your proudest/favorite running moment so see you then!!
Runners Tell All Linkup Rules
1. You MUST leave a comment on the person's blog who linked up directly before you. This is not a linkup for the sake of linking up. This is a linkup to build community and spread the love and encouragement to your fellow runners! Don't be lame. 2. Do not share links to unrelated running posts or to your blog's homepage, or we will have to delete your link. 3. Please link back to either Beka or Amanda in your post so others can come here and join in! Or grab the button below and add it to your post.